Trunk or Treat
October 22, 2023 4:00pm
Address: Beech Haven Church, 2390 West Broad Street, Athens, GA US 30606
Room: Front Parking Lot
Contact: Jennifer AdolphsonJennifer Adolphson
Website: https://beechhaven.org/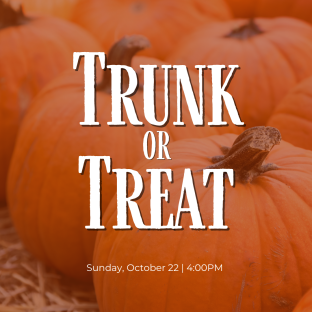 Come join us for a spectacular evening of fun and festivities! Here are just a few of the things you have to look forward to:
Dive into our Trunk or Treat adventure, where creatively decorated cars will be brimming with goodies and treats. Interested in volunteering to decorate a trunk? Sign up here!
And for the culinary enthusiasts, our Chili Cookoff is bound to spice things up! Get ready to savor some delicious concoctions and maybe even bag the title of Chili Champion! Interested in competing? Sign up here!
Dress in your best costumes, bring your family and friends, and revel in a night full of fun fall activities! We can't wait to see you there!